Flütjerhof goes Foundation Alliance Human & Animal, Stiftung Bündnis Mensch und Tier: We are now a certified meeting farm! Since the summer of 2021, we have officially belonged to the Stiftung Bündnis Mensch & Tier, foundation Alliance human & animal. We are so glad and happy that we have been able to document the quality of our farm, our animals and the way we treat them and qualifying ourselves. A great performance from the entire team. THANK YOU to everyone who supported, built, painted, swept and helped.
Learn more about animal-assisted intervention and why it matters to you in our free e-book
G'd morning! With Ingo and Maren on their fabulous Flütjerhof
Cow cuddling, horses and more
Wie und wobei können dir unsere tierischen Freunde helfen?
Have you always wanted to be enchanted by soft, long-lashed eyes? Listen to the grinding while ruminating? Feel the warmth of cows? Our little jersey herd Ella, Nikki (her daughter, who will soon be a mother herself), gentle Tilda with her offspring Kicking Lissi are looking forward to seeing you too!
Get to know a completely different, ideal world: cuddling with cows is fascinating, gives you a break from your stressful day and gets you thinking about completely different things. A bit "like in the old days".
The horses – here you can also get to know them up close – carefully and attentively – brush, go for a walk, cuddle up. They love to be brushed, especially when they change their coat. Do you want to touch them?
Our Shadow, rescued from a Spanish killing station, if you're gentle enough, she might come to you too.
Who is our farm for? Children, young people – with or without disabilities, families, stressed people, those affected by burnout, curious and animal-loving people at all age. Cow lovers, Poney lovers. Horse lovers.
Thats what our customers say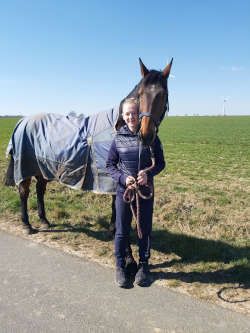 Dear Maren. We would like to thank you: for the beautiful moments that our daughter is allowed to experience on your farm with people and animals. Through the work on the horse and the resulting positive experiences for her, her self-confidence has grown and her social skills have been strengthened.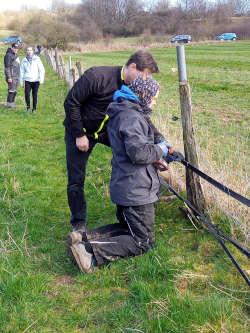 The Flütjerhof is just great, both the animals and the people! Our daughter has been taking part for about a year and has learned a great deal about the animals and life on the farm. Especially for "city children" there are special experiences and relationships that you build up with the animals that are not commonplace and that you don't forget so quickly… We think it's great!