We have taken the plunge and now offer intuitive archery in our program. Clear the way!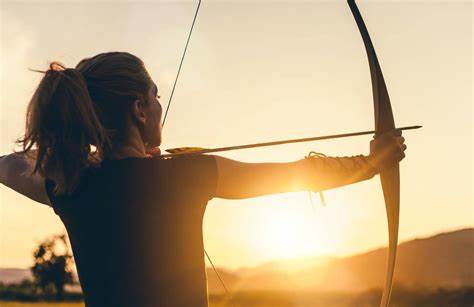 Meist werden wir auf dem Boden schießen, als solltest du enge steile Treppen ohne Furcht klettern. Kleidung: feste Schuhe, keine zu lose Kleidung. Für Links- und Rechtshänder geeignet. Es liegt aber am fokussierenden Auge und nicht nur an der Hand. Wir schießen im Einklang mit unserem Atem. Gleichzeitige Konzentration, Achtsamkeit, fokussieren ohne zu zielen, die ursprünglichste Art des Bogenschießen. Findest du deinen Mittelpunkt, dich auf dieses Abenteuer einzulassen? Es ist buchstäblich spannend.
But sometimes, when the weather is favorable, the animals are in the pastures, the meadows are harvested, we will be able to shoot in the sunset.
Link to our program: https://www.fluetjerhof.de/bogenschiessen/