Corona and back – a stupid combination. Corona prevents people from daring to come to us, my intervertebral discs say that I should wear less. So solutions were needed. Our gentle and calm Mi'echen', Ingo's favorite cow, has found a fantastic new opportunity: There is a really great woman nearby who takes care of cattle with like-minded people and rescues them. We didn't have to rescue Mia, but to prevent her from suffering the "normal" fate of a meat cow, the two of them literally found each other. I still have tears in my eyes when I recall the first meeting. Without any treats, Mia would never leave Rosina's side. Ella, otherwise the boss of the herd, was also satisfied and left the two alone.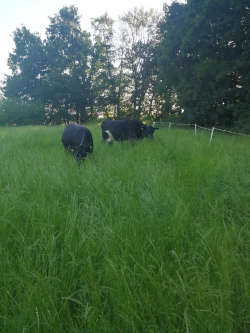 And so, after a period of reflection, Mia and Rosina got together. Rosina wanders through the woods with her flock, films them and presents it on social networks. Behind this is an association, Strong for Animals eV, which supports the whole thing.
And so, one day last week, Mia confidently walked into the trailer as usual and came out into the woods to join her new herd. It was like arriving at her real family. All sort of black Mias, except for a brown one, with whom she currently gets along best.
And so Mia has arrived super well, and she can also have her calf there and keep it. I would have always wished for a cow life like that. Thank you dear ones, that's perfect for me. Even if my heart is still a little heavy, it will get easier with time. All the best to you! I am happy if I can visit you.